My obsession with matcha most likely began when I was an exchange student in Tokyo. My first introduction to matcha was Kit Kats followed by matcha pastries and ice cream! When I returned to Miami after studying abroad, I was a little bummed out by the lack of Asian treats and at the time I had to order in bulk from places like Amazon.
When I moved to San Francisco, I was overwhelmed by the easy access to all of my favorite Japanese treats! This also included matcha powder. With easy access to matcha powder, I began experimenting with baking and desserts.
This is a recipe that I love and adapted from Bashful Bao. I increased the amount of matcha powder and decreased the amount of almond extract in the recipe to really highlight the matcha flavor: D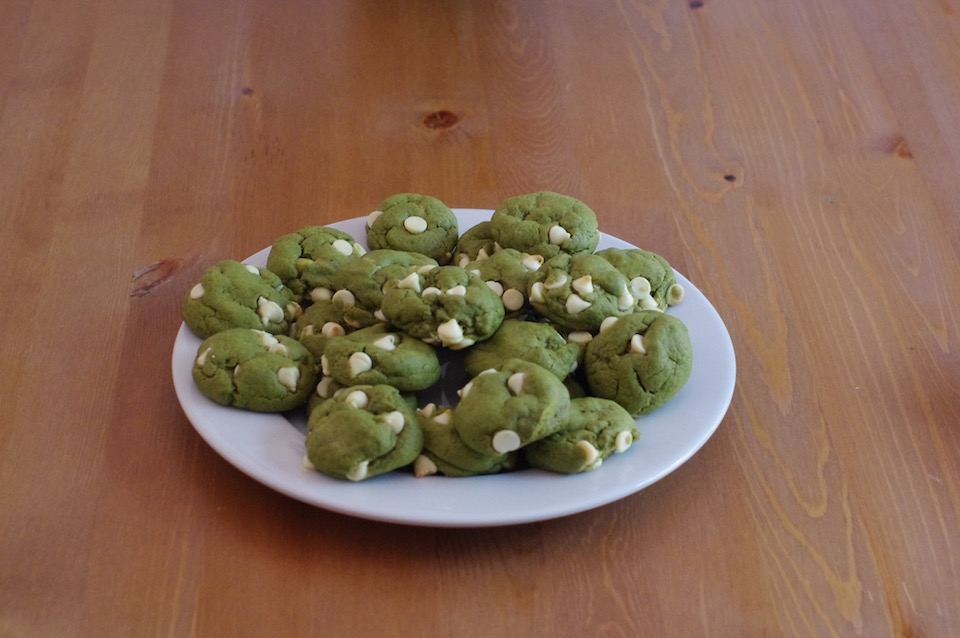 Recipe
Prep Time: 15 minutes
Cook Time: 10 minutes
Cool Time: 10 minutes
Makes about 2 dozen cookies
Ingredients
1 ¾ cups all-purpose flour
1 tsp baking soda
½ tsp salt
2 ½ tbsp matcha
½ cup unsalted butter (softened)
½ cup sugar
½ cup brown sugar
1 egg
½ tsp almond extract
1 cup white chocolate chips
Instructions
Heat oven to 350ºF. Line two baking sheets with parchment paper.
In a medium bowl, combine the flour, baking soda, salt and matcha. Give the bowl a few shakes to mix the ingredients together. Set aside.
In a mixer or large bowl, mix the butter and sugars until creamed together. Next, add the egg and mix until it is thoroughly incorporated. Then add the almond extract.
Slowly add the dry ingredients to the mixture, stirring to incorporate the dry ingredients. I like to mix in the dry ingredients in 3rds.
Fold in the white chocolate chips using a spoon
Scoop out about 2 Tbsp of dough per cookie and put them on the baking sheets spaced about 2" apart. I like to use an ice-cream scooper.
Bake for 10-12 minutes or until the edges are just turning golden brown.
Remove from oven and let rest on the baking sheets for 5 mins before transferring them to a wire rack to cool completely. Store cookies in an air tight container for up to a week.