I Actually Wanted to Be a Snowboarder
As a 10 year old kid growing up in South Florida, I religiously watched Rocket Power and wished I were a Rocket sibling. All I wanted to do was master the art of extreme sports. More specifically, I dreamed of shredding the slopes on a cool snowboard and doing back flips on halfpipes. Unfortunately all I had was the heat, the sand, and unsurfable waves.
When I moved to San Francisco, I believed I'd finally have the opportunity to fulfill my lifelong dream of pretending I was in the X-Games. During my first winter in SF, I eagerly hopped on the Bay Area Ski Bus and counted down the hours until I'd finally see snow for the first time.
Failing Miserably and Almost Giving Up
My expectations did not meet reality:
Like everyone who has tried snowboarding, the first time on the slopes was a painful moment of my life. But what followed was 2 seasons of misery and fear. Despite my best efforts, I could not overcome my fear of speed and my natural lack of balance.
Strapping Skis on for the First Time
I was pretty defeated at the end of my 2nd season of snowboarding. I began to resent the snow and Tahoe and all of the fearless kids passing me by. I was also very disappointed that I was not cut out for winter sports. During my last trip to Tahoe for the season, Ke convinced me to just give skiing a shot. I never thought skiing looked even remotely cool but I figured it couldn't be worse than snowboarding. I also wanted to be able to join Ke on trips to Tahoe.
To my surprise, I picked up skiing fairly easily, meaning I was conquering green runs on my first day. After learning the "pizza" and "french fry" basics, I could finally start to enjoy myself. Once you learn how to "pizza" and "french fry" on the bunny slopes, the next steps in learning how to ski are mastering quick stops and becoming comfortable with speed. My fear of steep slopes and speed were my biggest hurdles to overcome.
Mountain selfie in Breckenridge
Falling Down a Double Black Diamond
I have three distinct "holy fuck" moments as I increased my skiing ability. The first "holy fuck" was my very first blue run at Kirkwood. I remember distinctly taking the lift up and thinking to myself, oh this doesn't look so bad. But as I got off the lift and turned the corner, I realized the slope was much steeper than I had originally thought. Pro tip, runs are always steeper than they appear when going up the lift.
I remember sitting on the snow (after falling down the first hill) so terrified that I actually cried. With Ke's encouragement and a shot of whiskey, I somehow made it to the bottom with only tumbling a second time. First blue semi-conquered.
The fun (and terrifying) aspect of skiing is challenging yourself and getting to that next level. This brings me to my 2nd "holy fuck" moment that took place a year after the first. This time around, I was in Breckenridge and made my way up to the top of the mountain. This was the first time I had the courage to go to the very top of a resort. What awaited us was technically a blue run, but it was a bowl with a steep, steep drop before flattening out. I remember standing on the edge of this drop as the wind and snow blinded my vision. My friends had already ventured forward and there I stood, all alone and absolutely terrified. Crap. I conjured all the courage I had a went over the edge…edging to the right for as long as I could before quickly turning left and then right once more. It may have taken me half an hour to get down but once again…semi-conquered!
My 3rd "Holy Fuck" moment – A Double Black Diamond
My 3rd "holy fuck" moment came this year as I semi-conquered, aka fell, down my first double black diamond. This moment came after I had about 3 shots of whiskey and was really feeling myself. Pro tip, alcohol is your best friend on the mountain. I had decided to challenge myself this day and followed Ke for most runs. After skiing black diamonds and smaller bowls, I decided I was ready to follow him and some friends to Mott's Canyon, an expert only part of Heavenly.
Well once again I had put myself in a situation I could not back out of without the help of ski patrol. Runs in Mott's Canyon are basically 5-10 degrees shy of being a straight 90 degree drop. As I stood over the edge of a double black diamond, I thought to myself…"fuck." With a few strategic turns and edging, I thought I could make it down:
However, on the next turn after the photo below was taken, I fell face first into the snow, rolled over, and one ski flew off falling 30 feet down the mountain xD. I then had to shimmy my way down the mountain to retrieve my ski and finally made it to the lift a good half hour after I started.
Was This Really About Learning to Ski?
The lesson to be learned here is not actually how to ski, but how to fail, laugh at yourself, fail some more, then get back up to make your 10-year old self proud. I still have lots to learn in the realm of skiing, my form is pretty awful and I suck at actually teaching someone how to ski, even the "pizza" basics. But over the past few seasons, I have impressed myself by not giving up and conquering my fears.
I am no longer scared of speed or steepness. I've also gained a new confidence in myself, not only in my physical strength and capabilities, but also in my drive and courage. While I love the rush as I race down a steep run, my favorite part of skiing is not the adrenaline I thought I craved as a kid. My favorite part is simply skiing down a gentle run and soaking in the beautiful sights nature has to offer. I never get tired of the view.
Peak 6 at Breckenridge
Hot Day at Canyons
Sunny Day at Heavenly (I really like sunny ski days if it wasn't obvious)
Fresh Powder and Sun at Northstar
Sunset in Park City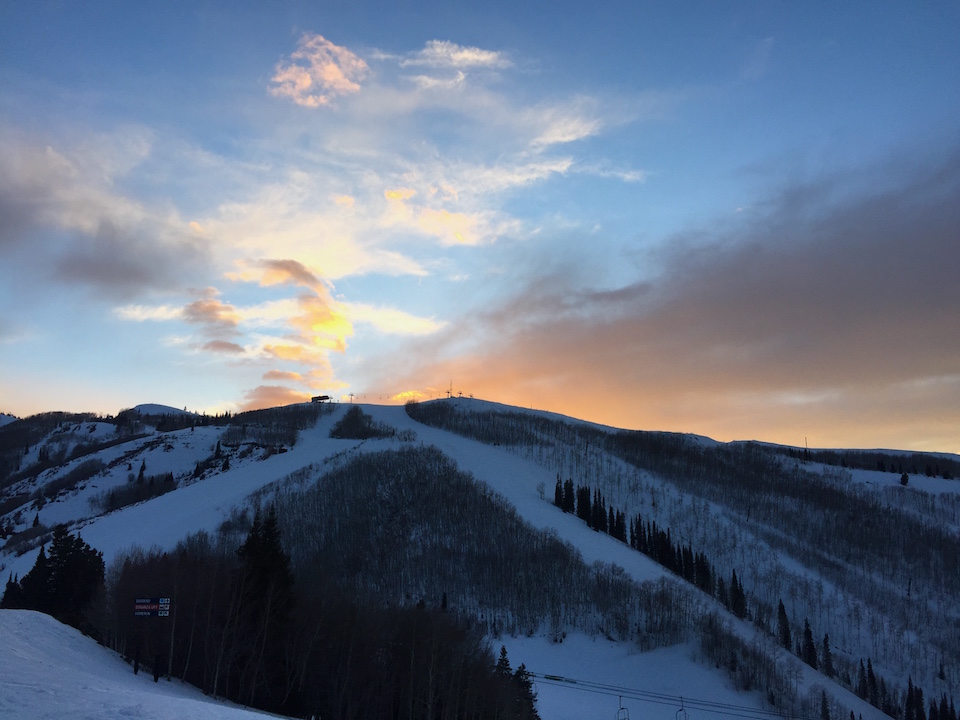 Night/Sunset Skiing in Park City