As I was researching things to do during my solo trip to Taipei, endless blogs and websites mentioned Taroko National Park, a visually stunning national park named after its famous gorge. I wanted to avoid paying for and being in an organized tour so I decided to plan the trip on my own! Below is how I managed a solo day trip and some of the stunning views I was able to capture.
How to Get There from Taipei
Step 1: Buy a TRA ticket to Hualien Station or a local train ticket to Taroko Station (Xincheng) from Taipei Main Station. I chose to arrive in Hualien even though it is further away from Taroko because I had more flexibility with the arrival and departure times and also wasn't sure how reliable the Taroko Shuttle Bus was when going to Taroko Station.
I first bought a round trip ticket from Taiwan Railways Administration (TRA) ticket to Hualien station from online. You can search the timetable here and purchase the ticket from here or here. I purchased two tickets using my credit card before I arrived then used my confirmation + passport numbers to print out my ticket at a 7/11 once I was in Taipei.
If you're worried about your language abilities, you can also purchase a ticket from Taipei Main Station using their ticket machines which has an English setting but I HIGHLY recommend buying this ticket at least a week and a half in advanced, they sell out fast.
Step 2: Once in Hualien, buy an all day bus ticket for the Taroko Shuttle Bus. I thought the counter to buy this ticket would be right in Hualien Station but it isn't.
When you exit the station, make a left and walk all the way down the street until you see a bright orange building across the street. This is where you can purchase an all day ticket for NTD $250. The shuttle schedule can be found here but when you buy your ticket, they will give you a more updated one.
Below are how the buses look. The smaller one shuttles people throughout the city as well:
Step 3: Try and make it to all the sites! Most people and tour companies would probably recommend spending two days around Taroko and Hualien but I managed to squeeze in almost the entire park in one day (I was not able to do the longer hikes, those would require 2-3 days to do & see all the landmarks). I arrived in Hualien at 8:30am and headed back to Taipei around 10pm so it was a very long day that could have been shorter if I hadn't almost gotten stranded in the park…more on that later.
The Taroko Shuttle bus was also iffy with the schedule so at some points I decided to walk in between sites, which ended up being incredibly amazing and terrifying at the same time.
If you want to avoid depending on public transportation, I recommend this small group tour*. This is a company I considered using when planning this trip because they had amazing reviews. It's a small group tour that picks up at Hualien station and takes you to all of the main sites below!
Shakadang Trail
Once I hopped on the shuttle, my first stop was Shakadang trail. I spent about 40 minutes here walking the trail and taking pictures. I could have definitely spent hours here hiking all around but decided to cut my hike short to make the next shuttle. It was definitely a great start to the rest of the beauty in Taroko.
Buluowan
I hadn't planned on stopping here but the shuttles wait here for 30 mins to an hour before continuing on so I hung out, grabbed ice-cream, and took photos of the beautiful view. It was lovely reading about the Taroko tribe and learning more about how they lived in the gorge but if you're short on time, I'd recommend moving on to the next stop.
Tianxiang
Due to the weird bus schedule, I decided to skip all the way to the last stop, Tianxiang, and then make my way back. At Tianxiang, I grabbed beef noodle soup for lunch, hiked up to the temple and had loads of fun snapping photos.
I had planned on hiking the Baiyang Waterfall Trail (which took me forever to find!! It's behind the bus drop off FYI, take the road across the 7/11) but the main entrance as of the writing of this blog post is blocked off due to a cave collapse. The second way to get there would have taken me some additional hours and I wasn't properly prepared for the increased difficulty.
Wandering to the Cimu Bridge
Instead of waiting for the next shuttle (a 2 hour wait since I decided not to hike Baiyang) I decided to walk along the side of the road to see the Cimu Bridge, which is a beautiful site but not a shuttle stop. I highly recommend walking if you aren't afraid of small road shoulders. It's a lovely view and about a half an hour walk from Tianxiang. I even stumbled across an even smaller pagoda not pictured with a tiny bridge across the river!
Swallow Grotto
From the Cimu Bridge I stupidly decided to walk to Swallow Grotto. DO NOT WALK THERE. It was a bad decision but I was already half way into the hour long walk to turn back. Instead I recommend walking back to the previous shuttle stop and catching the shuttle to Swallow Grotto.
I had planned on skipping this stop due to time but I am so happy it ended up working out (despite the most terrifying hour of walking in my life). This place in my opinion was by far the most stunning part of Taroko Gorge and frankly pictures cannot do it justice. Non of my photos represented even a fraction of how stunning Swallow Grotto is.
Eternal Sunshine Shrine
After Swallow Grotto, there were about three shuttles left for the day. I hopped on one and decided to stop at the Eternal Sunshine Shrine. This stop is only accessible on your way back from Tianxiang. It was absolutely gorgeous and probably the most crowded part of the park.
Almost Getting Stranded and Taiwanese Kindness
After taking my snaps of the Eternal Sunshine Shrine, I waited for the Taroko shuttle back to Hualien train station. After the time past for when the last shuttle was supposed to arrive (the previous 2 hadn't) I began to freak out. Slowly all of the tourists and tour buses were disappearing and there was no way I'd get back in time to catch my train. But I was more scared of being stranded in the park. So I mustered all of my courage and Mandarin skills to ask the last remaining tour bus for help.
The two guys I asked happened to be the tour leaders of the bus and began debating amongst themselves and the driver about how to help me. There was no way I'd make it back to Hualien for my train but they wanted to at least take me to Taroko train station.
Against the drivers wishes xD, they had him quickly drive the tour bus (while some passengers lingered on the bus and others were still at the shrine) and raced me to Taroko train station in hopes I could still make my train at Hualien.
We all chatted during the ride, with my broken Chinese and their broken English, and wow it was so worth missing my train. We joked and got to know each other and their pure kindness was truly overwhelming. I thanked them profusely and asked for selfie lol!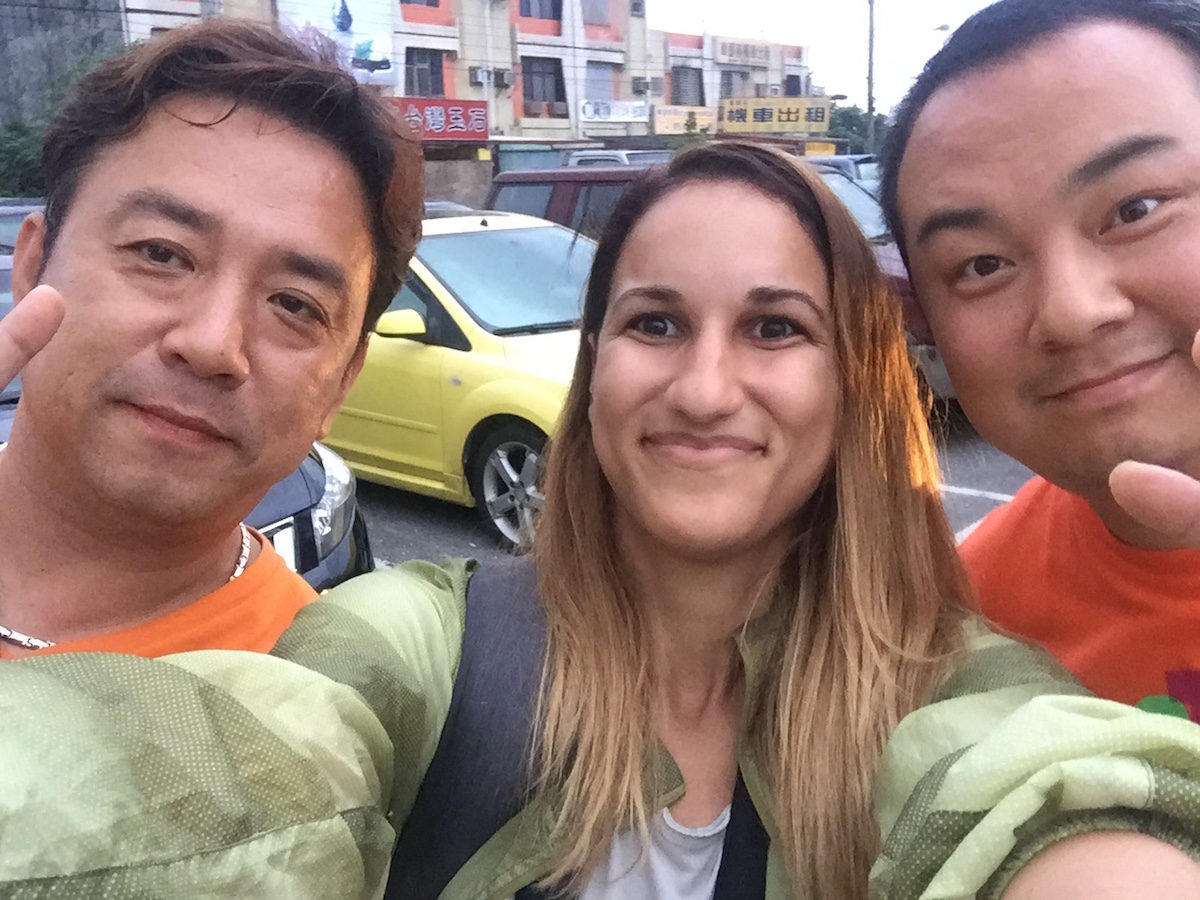 I later realized that even though one shuttle bus had dropped me off at the last stop, there was a sign that read none of the buses were supposed to stop there due to the overcrowding of tour buses. They instead were stopping half a mile past the shrine but the sign had been in Chinese!!
Despite the mess up, I am so proud of myself for doing this solo day trip and so thankful for the kindness of strangers. I highly recommend a trip one day to Taroko Gorge, you won't be disappointed.
*This post contains an affiliate link to a recommended tour, which means I receive a commission if you make a purchase using the link.