For Thanksgiving vacation, Ke and I went to Japan! This was both our first time visiting the Kansai region so we squeezed in as much stuff as we could. We almost missed the first day of our trip due to a 20 hour flight delay. After waiting for hours at the airport in San Francisco, we were able to hop on a new flight 8 hours later and ended up getting to Japan only 5 hours after we were supposed to land! We had plan on doing a day trip to Kobe but due to the flight delay and to weather we decided to skip it and just grab some good kobe beef in Osaka =D
Day 1
Dontoburi
Our first day was really a half day since we landed late. After checking in to our Airbnb we headed to Dontoburi for dinner.  Our first meal was ramen of course at KING-emon ramen. It's easy to spend hours here shopping, eating, and exploring the different alleyways.
Day 2
Osaka Castle and Park
The next morning we made our way to Osaka Castle and park. It was so stunning during the fall season. We made our way to the top from the train station, stopping along the way for photos. Next time I'd love to do a boat tour around the moat, it was such a serene view.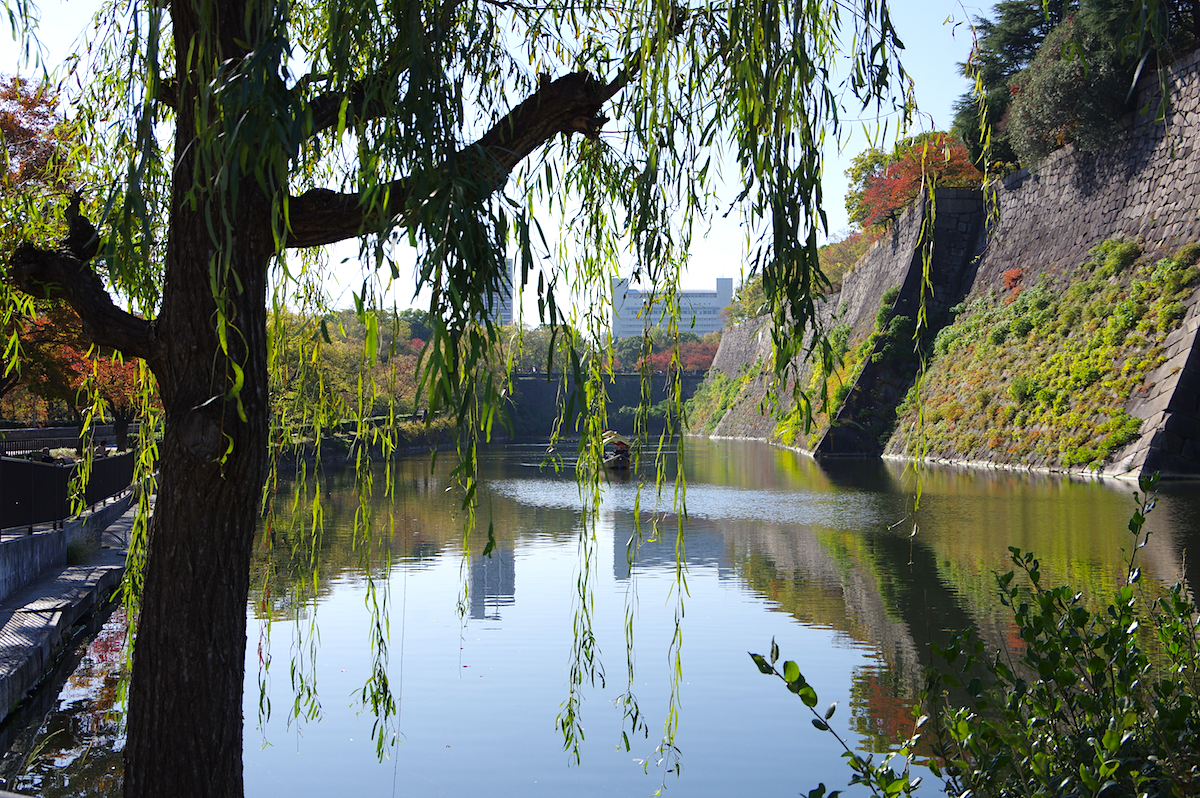 Kuromon Market
After exploring Osaka castle, we grabbed lunch at Kuromon market. We tried some fresh uni, unagi, and takoyaki. There were tons of options, great if you love fresh seafood. It was a little touristy but I definitely recommend checking this market out.
Osaka Go Kart Tour
After lunch we made our way to Akiba Go Kart for a go kart tour around the city! This was the highlight of my time in Osaka. To begin with, they were very nice and flexible. We had to reschedule our tour twice due to the flight delay and they gave us no trouble at all.
To do this tour, you'll need an international driver's license. We got ours at AAA before heading to Japan. I was terribly nervous since I rarely drive, would have to be so close to cars in Osaka, and drive on the opposite side of the road. However, this was extremely fun and I felt safe the entire time. After the 1st hour, I was cruising without any fear.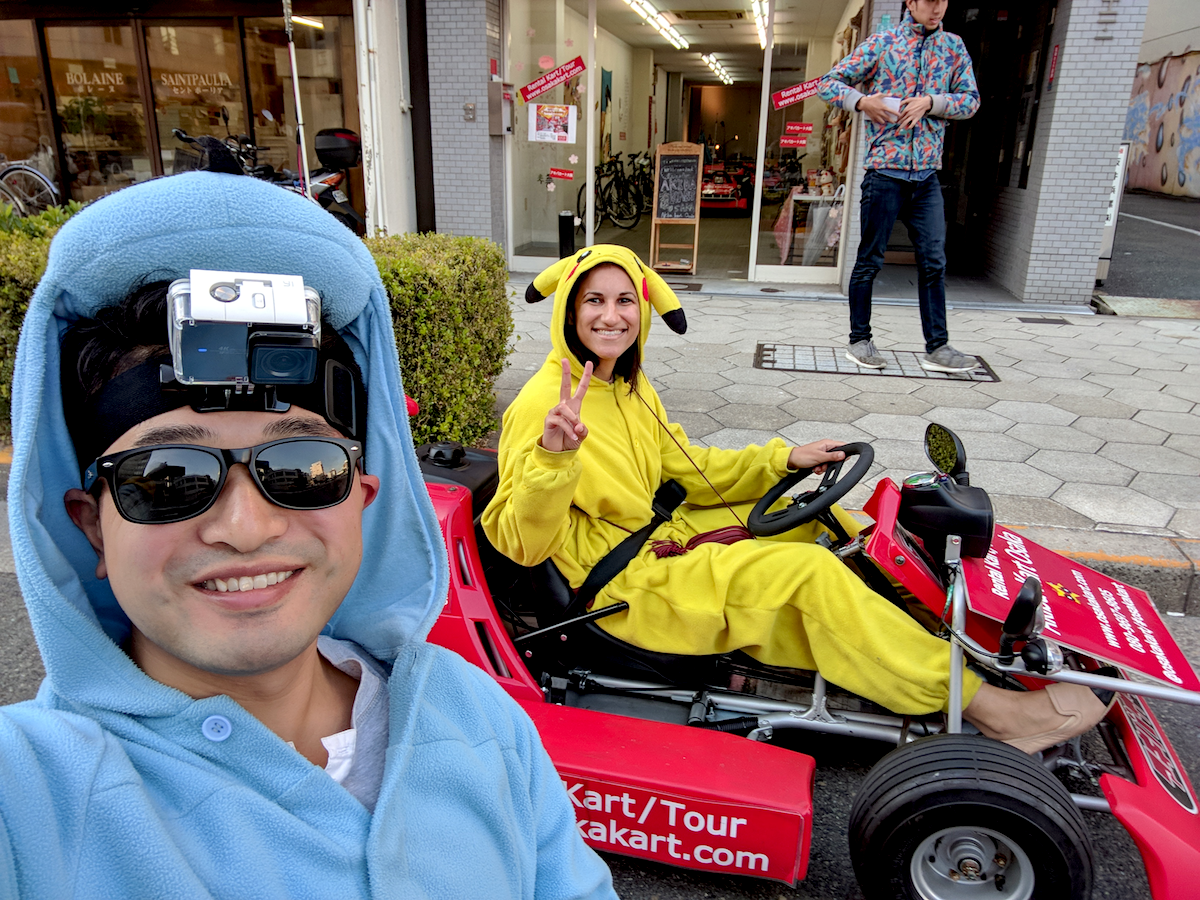 Yakitori
For dinner we grabbed yakitori at Tsuki No Odori. We didn't make any reservations but went on a night were it wasn't crowded. This yakitori was probably the best I've ever had. My favorite dishes were their tempura fried chicken and all the skewers with leeks. Highly recommended!
Day 3
It's very easy to do day trips outside of Osaka or Kyoto. We did a day trip to Nara while in Osaka and also went to the Yamazaki Distillery on our way to Kyoto.
Suntory Yamazaki Distillery
Another highlight of our trip was our stop at the Yamazaki Distillery. It's about halfway between Osaka and Kyoto and easily assessable via the JR. You can stop buy for tastings and to check out their museum. They also offer tours, but they are extremely popular and sell out fast. Ke booked the tour about 2 months in advance.
I'm not a whisky drinker at all but this tour was so much fun. We got to tour each step of the whiskey creation process. The coolest part was visiting the barrel room and experiencing the Angel's Share. The Angel's Share is the term used for the amount of whiskey that evaporates into the air as the whiskey ages. It's the share that "angels" take. It's a very strong aroma in the air and made me feel like I was drunk.
Afterwards we got to taste different whiskeys and went back to the tasting room to try the single malt aged for 25 years! It was delicious.
Kobe Beef
For our last night in Osaka, we grabbed Kobe beef at Kobegyu Steake Ken. I didn't feel too down about not being able to go to Kobe because there are tons of opportunities in Osaka to try the beef. Dinner at Kobegyu Steake Ken was incredible! They offered various tasting menus depending on how much kobe beef you wanted.
Below were the two beef courses, but the tasting menu included like 5 or 6 other delicious dishes. The service was incredible too.  It was a very small restaurant with only two chefs. They were so friendly and spoke pretty good English. This place is a must try.
Japanese Whiskey Bar
We also went to an awesome whiskey bar in Osaka called Bar Freedom. It was a very small bar so many people that came after we were seated weren't able to come in that night. The bartender spoke very little English but was very nice and eager to introduce us to different whiskeys and gin. We met some cool travelers as well, I'd love to come back here if I'm ever in Osaka again.
Excellent Sights and Food
While Osaka is similar to many large cities, I had an awesome time. It was slightly smaller and more laidback than Tokyo in my opinion. We ate as much food as possible but didn't get a chance to try okonomiyaki until we were in Kyoto. I would love to visit again and spend more time exploring restaurants and bars =D